4
TreeCapitator mod v2 for Minecraft PE (IC)
You can download exactly the same mod but for BlockLauncher -
TreeChopper mod
. This post contains
TreeCapitator for Inner Core
(a launcher with advanced functions as opposed to BL). The meaning of this mod is realistic tree cutting, that is, you can cut only one block from below the tree trunk and the whole tree will fall to the ground as separate blocks.
Believe, the TreeCapitator mod is an excellent helper during the extraction of a tree. You will shorten the time spent with the ax and you can build whole fortresses and other structures from the tree, because all your inventory will be filled with different types of wood.
How to use?
The first thing you need to do is crafting some ax in crafting table: wooden, iron, diamond, gold - it does not matter. Next, find some kind of wood, preferably high, to pick up a maximum of wood when you cut it.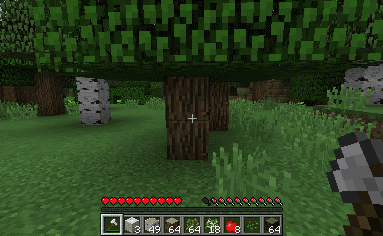 It is recommended any dense forest seed (e.g Mega Taiga). There you will find many huge spruce trees whose thickness will be two blocks in diameter. Now pick up the ax and start cutting down the tree when you cut down the bottom block of the tree, the entire trunk will fall out.
Update for the latest versions of Innercore.
How to install TreeCapitator?
1. Install
InnerCore (link)
.
2. Download the file below.
3. Unpack the .zip to /games/com.mojang/mods/.