69
Emotions Addons (Mo' Bends) for Minecraft PE 1.14/1.15
Emotions are a great and easy way to express your feelings instead of talking. The presented addons in this post will help you express your emotions in the form of dances, gestures and even blinking eyes. Using these addons you will surprise your friends in just a few seconds.
Saludo Emote (by D Flog Flag):
The day has come when you can dance in Minecraft PE. This is a purely individual feature that can be used at any time. Turn on the melody on jukebox and press the shift key to start flexing. When used on Realms, anyone can flex.
Dabbing (by BMHeades):
Your coolness factor will become higher if you add this animation. In those moments when you defeated several opponents, dealt with a crowd of monsters, completed the construction of a huge structure or did a great job, just turn on the dab animation.
Sip Emote (by Super Goku):
Are you familiar with Fortnite Swish Swish Dance? The addon included in this pack adds it to Minecraft Bedrock thereby allowing the player to express his joy with this dance. The movements are quite smooth but there is a slight flaw with the body.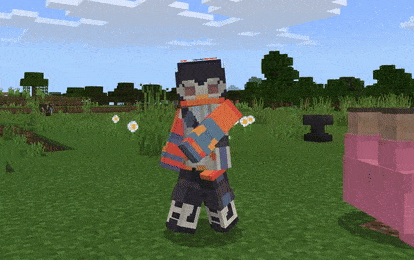 Breakdancing (by D Flog Flag):
This is the most incredible opportunity that you can now use in the game. Start breakdancing on a flat surface to prove to everyone how cool you are.
Head ball (by Super Goku):
What about playing the ball with your own head? This is a rather strange idea, but it may well be fulfilled by you if you install this animation. When you press a button or tap, your character will simply take his head and begin to kick it with his feet like a ball. Do not believe? Then look.
Twerk Emote (by Super Goku):
The next emotion will make Steve a real twerk master. It may look strange, because his head will be somewhere in the groin, and his movements will lose rhythm. Use twerk emote if you want your friends to lose their heads.
Celebration Emote (by D Flog Flag):
How do you rejoice when you reach a certain goal in Minecraft Bedrock? It is impossible to invent emotions better than this one suitable for any joyful events, whether it is a won mini-game or gaining an achievement. With this, you jump up, reaching for the sky with your hand as shown in the screenshots.
Hi Gesture (by Glass Boy):
Mo 'Bends offers a lot of different animations for Minecraft Bedrock, but you can dig around here and not find the right one. That is why you should install Hi Gesture. Now you just have to wave your hand to your friend to greet him. It is very convenient on servers if this addon is included in the list of necessary for joining.
How to install the Emotions Addons?
1. Open the file (.mcpack) using Minecraft PE.
2. Activate the addon (world or game settings).