2
Minecraft PE 1.2 - changelog
It's time to collect information about the next update that may appear already in late summer. Virtually all the details of the game are taken from developers tweets or analyzing Minecraft PC. Sometimes Mojang hints to the players some of the features of the upcoming update. In order not to search for these tweets we collect all the information in this article.
The first confirmed news are
banners
to be added to
Minecraft PE 1.2
. Jason Major started to work and pleased the players with fresh screenshots showing how they work. As you can see, they look great and there will appear enhanced customization functions, apparently. Creating banners is not a difficult task and maybe the
Pocket Edition
will get a new interface for this.
Do you like to make notes or write stories? The
book
is the second confirmed thing that can be added to 1.2 with a high probability. Books like in real life can store your notes, coordinates and save all your accumulated knowledge. Probably, bookcases will also be used in
MCPE 1.2
with new features.
Stained glass
has long been one of the most anticipated features for builders because houses are turning into real art with its help. Version 1.1 contains many multicolored blocks and colored glass will add more uniqueness and beauty. In addition, the glass transmits light perfectly.
The ice will become transparent as confirmed by this gif. This is quite logical when you can see something through the ice. Although this is not such a major feature, it's still better than nothing.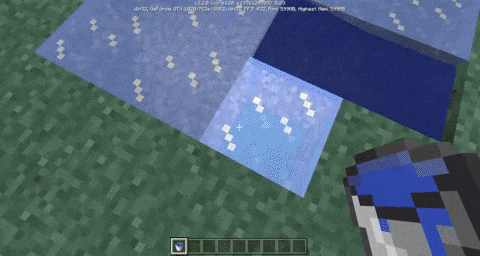 Do not forget that the article is constantly updated and that's not all that will be added to
Minecraft Pocket Edition 1.2
. Leave your comment if you know something new.